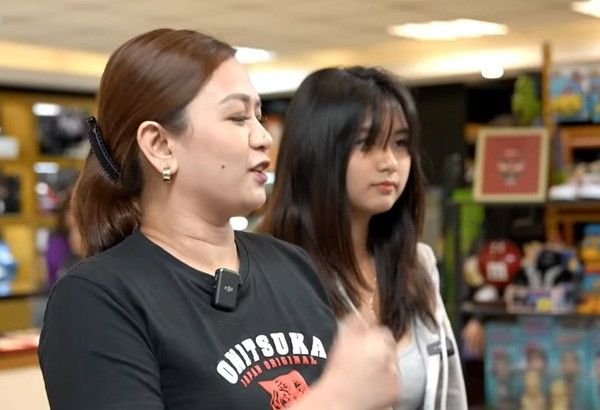 A woman who claims to be the former lover of the late Francis Magalona, renowned as the "King of Rap" in Original Pilipino Music (OPM), has come forward with their alleged daughter, making a public appearance to sell a jersey said to belong to the iconic musician.
In the recent episode of "Pinoy Pawnstars" hosted by Boss Toyo, Abegail Rait and Gail Francisca showcased the jersey, sharing what they assert to be its backstory. The garment, adorned with a photo of Francis and Abegail along with a letter expressing "I love you" from Francis to Abegail, was presented as evidence of their claimed relationship.
Abegail, a former flight attendant, recounted how she first met Francis during a live taping of "Eat Bulaga." According to her, Francis sought her contact information after the show, leading to the commencement of their relationship. This union, as Abegail asserted, resulted in the birth of Gail Francisca, allegedly named by the late master rapper himself.
The revelation took a poignant turn as Abegail disclosed that their relationship endured the challenging period when Francis was diagnosed with cancer. She shared the emotional turmoil she experienced when Francis fell ill, stating, "Our world really crumbled at that time because we were okay, we had so many plans, and suddenly he got sick."
"The most difficult part was my situation. I couldn't go out; I didn't want to add more stress because he was already sick," she added.
The decision to sell the jersey was explained by Abegail, who expressed confidence that Boss Toyo would take good care of the precious memento. After maintaining silence for 15 years, Abegail felt it was time to speak out, asserting her right to do so for her daughter's sake.
She remarked, "I know people will judge me, but we exist. What we had is real. Me and my daughter are real; he loved us."
In an interesting twist, Gail Francisca was invited to showcase her rap skills, and Abegail hinted at her daughter's upcoming debut as a musician. Allegedly inheriting her talent for the arts from her father, Gail Francisca is poised to follow in the footsteps of the iconic Francis Magalona.